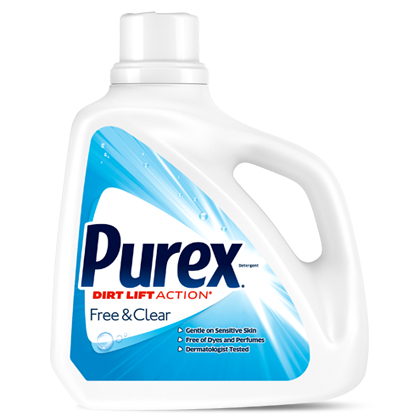 Purex Liquid Laundry Detergent, Free & Clear
Use this Purex Liquid Laundry Detergent to experience the same incredible clean, fresh clothes you've come to expect from Purex without the perfume or dyes. The free and clear blend has powerful stain-fighting additives and dirt lift action that leaves your clothes clean without the need for harsh chemicals. This laundry detergent is dermatologist-tested and hypoallergenic, making it particularly beneficial for those with sensitive skin. It's safe for use in all types of washers, including high-efficiency models. This Purex Liquid Laundry Detergent is available in a convenient 150 fl oz bottle.  

Purex Liquid Laundry Detergent, Free and Clear, 150 fl oz, 100 Loads:
Purex Free and Clear has a dermatologist tested formula with no perfumes or dyes, ideal for people with sensitive skin
Hypoallergenic
Unscented, with no perfume or dyes
Dermatologist tested
This package contains one 150 oz bottle, enough for 100 loads
With powerful stain-fighting additives and dirt lift action
Safe for all types of washing machines
No phosphate
Purex free and clear laundry detergent with molded handle and measurement top
Ingredients: 
Inactive Ingredients: Water, sodium laureth sulfate, ethoxylated alcohol, sodium carbonate, sodium dodecylbenzenesulfonate, sodium chloride, polymer, sodium edta, brightener, And preservative.
Ingredients: Water, Alcohol Ethoxy Sulfate, Linear Alkylbenzene Sulfonate, Sodium Carbonate, Sodium Chloride, Alcohol Ethoxylate, Sodium Polyacrylate, Fatty Acids, Disodium Diaminostilbene Disulfonate, Tetrasodium EDTA, Methylisothiazolinone, Fragrance, Liquitint Blue.