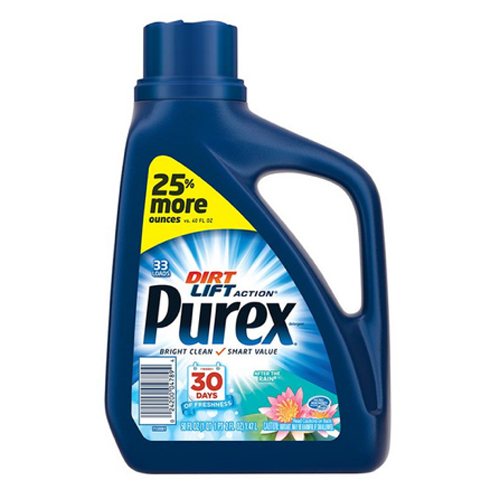 Purex® After the Rain® Liquid Laundry Detergent
After the Rain delivers an extraordinary clean and invigorating fresh scent. It's ideal for everyday use and can be found at an affordable price. Try After the Rain detergent in liquid or 4in1 Pacs.
 Purex is Canada's #1 Value Brand
Fragrance technology delivers 30 Days of long lasting freshness
 Stain fighting actives go deep into fabric fibers to remove ground-in dirt and stains
 High-efficiency detergent, optimized for great performance in all machines Also available in 4in1 PacsTM
Ingredients
Water, Alcohol Ethoxy Sulfate, Linear Alkylbenzene Sulfonate, Sodium Carbonate, Sodium Chloride, Alcohol Ethoxylate, Sodium Polyacrylate, Fatty Acids, Disodium Diaminostilbene Disulfonate, Tetrasodium EDTA, Methylisothiazolinone, Fragrance, Liquitint Blue.
---
Warnings
Caution: Irritant: May be harmful if swallowed.
---
Directions
For best results: Follow washing machine instructions for adding detergent. For regular loads, fill cup to level 1 (1.5 oz). Use more for heavily soiled or large loads.