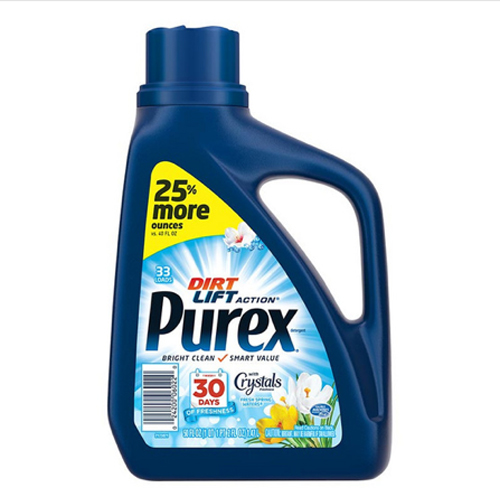 Plus Fabric Softener Dirt Lift With Crystals
Get the scent of spring year round with Purex Liquid Laundry Detergent with Crystal Fragrances. Fresh Spring Waters is a sensation of clean blue skies and spring breezes with line-dried fresh notes and clean florals. 
Reminisce about spring with a fresh crystals smell for a smart value.
New fragrance encapsulation technology keeps clothes fresh for 30 days.
Active stain fighting ingredients to keep your clothes clean.
For the best fragrance experience use with Purex Crystals.
This package contains one 50 ounce bottle, enough for 33 loads.
Ingredients
Water, Alcohol Ethoxy Sulfate, Linear Alkylbenzene Sulfonate, Sodium Carbonate, Sodium Chloride, Alcohol Ethoxylate, Sodium Polyacrylate, Fatty Acids, Disodium Diaminostilbene Disulfonate, Tetrasodium EDTA, Methylisothiazolinone, Fragrance, Liquitint Blue.
---
Warnings
Caution: Irritant. May be harmful if swallowed.
---
Directions
For Best Results: Follow washing machine instructions for adding detergent. For regular loads, fill cap to level 1 (1.5 oz.). Use more for heavily soiled or large loads.
Caution: Contains surfactants. Avoid contact with eyes. Do not ingest. First Aid: Eyes: Flush with water for at least 15 minutes. If irritation persists, contact a physician. Ingestion: Rinse mouth; Give a large full glass of water or milk. Contact a physician. Keep out of reach of children.