Details
Title: รักฉุดใจนายฉุกเฉิน
English title: My Ambulance
Genre: Romantic-Fantasy
Production Credits
Produced by: Nadao Bangkok
Director : 

บอส-นฤเบศ กูโน (ผู้กำกับ Side by Side)

ควบคุมการผลิตโดย : ย้ง-ทรงยศ สุขมากอนันต์, ปิง-เกรียงไกร วชิรธรรมพร
Cast
Sunny Suwanmethanont (

ซันนี่ สุวรรณเมธานนท์)

Mai Davika Hoorne (

ใหม่-ดาวิกา โฮร์เน่)
Sky Wongravee (สกาย วงศ์รวี นทีธร)
Bank Thiti (แบงค์-ธิติ มหาโยธารักษ์)
Pooky Paweenuch (ปุ๊กกี้-ปวีณ์นุช แพ่งนคร)
ต้าเหนิง-กัญญาวีร์ สองเมือง
ท็อป-ณภัทร โชคจินดาชัย
บิวกิ้น-พุฒิพงศ์ อัสสรัตนกุล
ปอนด์-พลวิชญ์ เกตุประภากร
พีพี-กฤษฏ์ อำนวยเดชกร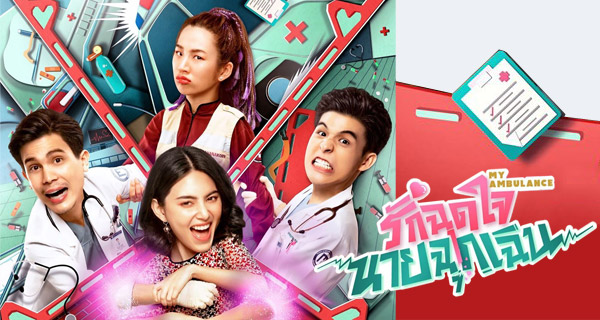 English Synopsis
Sunflower (Mai Davika) A young woman who devotes her life to Dr. Peng (Sunny Suwanmetha Non), a cold emergency physician who has been together for 15 years. Both are lovers with "magical powers can penetrate each other!" Peng could quickly reach her, like "Your staff AMBULANCE"
. This force was born from "love" until one day, the Sharks (Sky Wongrawee), a 6-year-old medical student who was under the care of Dr. Money, penetrate the sunflowers! Their faith began to change that. In short, what is the cause of the power ?!
But even more, the sunflower went to find the truth Also make the sunflower closer to the shark Until secretly unconscious, shaken by the sweet young doctor! In addition, Peng side also has noodles (Da Ning Kanya Veer), a young racer who became the driver of the ambulance hopes to use it closely to conquer Dr. Pink's heart, which also makes Pen's love relationship with Sunflower shaky.
"Then the two will hold their hearts together? Or will someone be drawn to the heart?"

Find a busy love story that draws your heart. Along with the mission of the emergency medical team that must meet Tai (Bankiti), a mysterious young man who lost his sister from an accident Bring the story of life at risk. Deadly risks that the medical team must face.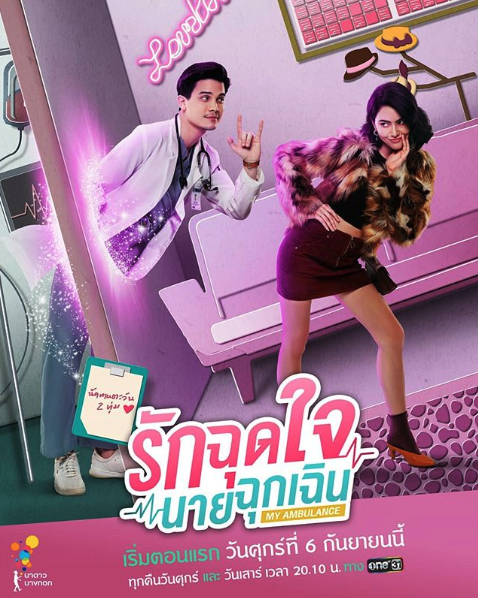 Synopsis
MY AMBULANCE รักฉุดใจนายฉุกเฉิน ละครโรแมนติก แฟนตาซี เรื่องล่าสุดจาก นาดาว บางกอก ออกอากาศทาง ช่องวัน 31 กับความรักที่เกิดขึ้นในแผนกฉุกเฉิน ที่จะทำให้ทุกคน อิ่มเอมไปกับพลังแห่งความรักอันสุดแสนแฟนตาซี พร้อมกับเหตุการณ์ไม่คาดฝัน ที่นำมาซึ่ง ความเป็น ความตาย การรักษาอย่างดุเดือด ผู้กำกับมากฝีมือ บอส-นฤเบศ กูโน ที่เคยฝากผลงานกำกับใน ซีรีส์ Side by Side พี่น้องลูกขนไก่ และ แตง-ภัทรนาถ พิบูลย์สวัสดิ์ ผู้ร่วมเขียนบท ใน ซีรีส์ Side by Side พี่น้องลูกขนไก่ ร่วมด้วย 2 โปรดิวเซอร์ ย้ง-ทรงยศ สุขมากอนันต์ และ ปิง-เกรียงไกร วชิรธรรมพร
นำโดย ซันนี่  สุวรรณเมธานนท์ และ ใหม่ ดาวิกา โฮร์เน่ และทัพนักแสดงงานดีมากมาย ไม่ว่าจะเป็น สกาย วงศ์รวี นทีธร, ต้าเหนิง กัญญาวีร์ สองเมือง, แบงค์ ธิติ มหาโยธารักษ์ พร้อมด้วย ปุ๊กกี้ ปวีณ์นุช แพ่งนคร, ท็อป ณภัทร โชคจินดาชัย, บิวกิ้น พุฒิพงศ์ อัสสรัตนกุล, ปอนด์ พลวิชญ์ เกตุประภากร, พีพี กฤษฏ์ อำนวยเดชกร, มากิ ด.ญ.มาชิดา สุทธิกุลพานิช ฯลฯ 
เป็นการกลับมาพบกันอีกครั้งของ ใหม่ ดาวิกา และ ซันนี่ สุวรรณเมธานนท์ หลังจากที่เคยร่วมงานกันในภาพยนตร์เรื่อง "ฟรีแลนซ์ ห้ามป่วย...ห้ามพัก ห้ามรักหมอ" โดยเรื่องนี้ถือเป็นการพลิกบทบาทครั้งสำคัญของ ซันนี่ เพราะต้องมาสวมเครื่องแบบเป็นเสื้อกาวน์เป็นคุณหมอแผนกฉุกเฉิน ผู้อุทิศตัวให้กับการทำงานแบบสุดๆ ส่วนใหม่ เอง ก็ต้องมารับบทหญิงสาวผู้มีพลังพิเศษ ที่พอคิดถึงใครปุ๊บ เขาคนนั้นก็จะสามารถทะลุกำแพงมาหาเธอได้ทันที!! 
Trailer (ENG Sub)
My Ambulance Trailer (Eng Sub) from Jordans Crisp on Vimeo.
Character Player
Sunflower: "New" Davika Honne 
The most beautiful and sincere woman in this life. Try everything but don't like it. Do anything but want a warm family She is now a professional. "Take care of your girlfriend!" She devoted her life to the care of Dr. Peng. Only girlfriend who has been together for 15 years 
Career for a girlfriend A profession that can be appointed by yourself when you feel so in love with a girlfriend who can no longer be stopped and wants to do everything to take care of him best This occupation has the main function of taking care of your girlfriend is "special", both eating is something he just likes. Sleep requires the most comfortable pillows and blankets. Including maintaining the purity of the room where he is And waiting to become a bright color for the life of the fans when they are stressed and tired, etc. The important thing is to keep love light whether the heart is dry or not!
Peng: Sunny Suwanmethanon 
A cold emergency doctor (residential physician who studies specialty) who devotes his life to being an emergency physician who works against time. He follows the motto "A second too late can cause the patient to die" until it sometimes causes the Sunflower injured that Peng has no time for love at all. 
RESIDENT (GP) To be resident Peng you have to go through education. "Doctor of Medicine" on the 6-year course. After graduation must be "Internship" for one year and "scholarship" for another two years. After that, when doctors are interested in a specific area, they can choose to study in a specific area, "Resident Doctors". In addition to supervising patients under the supervision of a medical professor, Resident must also be a consultant and responsible for care. Medical students also
Shark: Sky Wongrawee Thathorn 
Externally cool 6-year-old medical student in care of Dr. Peng Have a Dream to Become a Good Doctor But Always Causes Headache for Doctor Peng Every Day Causes Peng Peng's Girlfriend Sunflower to Hate the Shark's Face Very Much! 
EXTERN (medical students year 6) medical students studying the last year of primary medical education are often called "doctors" because they must act with real patients Must act like all doctors But will not be able to order directly Must lie under the supervision of a medical professor
Noodles: "Danning" Kanya Veer, Two Cities 
A young motorcycle driver who has become EMT responsible for driving. Ambulance, hoping to win the heart of Dr. Money that she secretly likes. Although he already has a girlfriend But the noodles will fight! She follows the motto "This is not called a race, but a competition." EMT (Emergency Medical Technician) Emergency Medical Staff Also known as EMT for short service life. And can drive an ambulance When the emergency medical team has to work on time One second can cause the patient to die. Ambulance driving Because of being like the one who controls the patient's life minutes Upon delivery from the accident to the hospital
Tai: "Bank" Thiti Maha Yotharak 
a cute little boy The only sister who lost his life in a major car accident Makes him feel suffer alone and suffer with this loss Until you thought of doing something to fight for the beloved sister
Tao: "Bukin" Puttiphong Assasrattanakun 
a 6-year-old medical student (external), a young man who brought a close friend Of sharks always laughs for everyone. And ready to become a good doctor in the future.
Selection: "Pound" Polwit Ketpraphakorn [Exter)SingleinnocentboysharkclosefriendHandcomingwithRoyGrilliantsmilingsheephairnurseTakTakattblikär
Ceiling: "Pookie" Paweenuch Pangnakorn 
. The senior nurse in the emergency department is funny, funny as a good working model for Dr. Peng And start having love for the first time in life by secretly liking the election doctor A little boy at the emergency room 
Nurse (Nurses) when the doctor examined the disease Diagnosis and treatment The nurse is like a medical friend. Who has a duty to care for and rehabilitate patients whom Phat considers appropriate In this emergency department Emphasize on emergency care, resurrection, must compete with time Nurses must be enthusiastic, determined and especially quick.
credits: Nadao Bangkok, รักฉุดใจนายฉุกเฉิน My Ambulance, ONE31